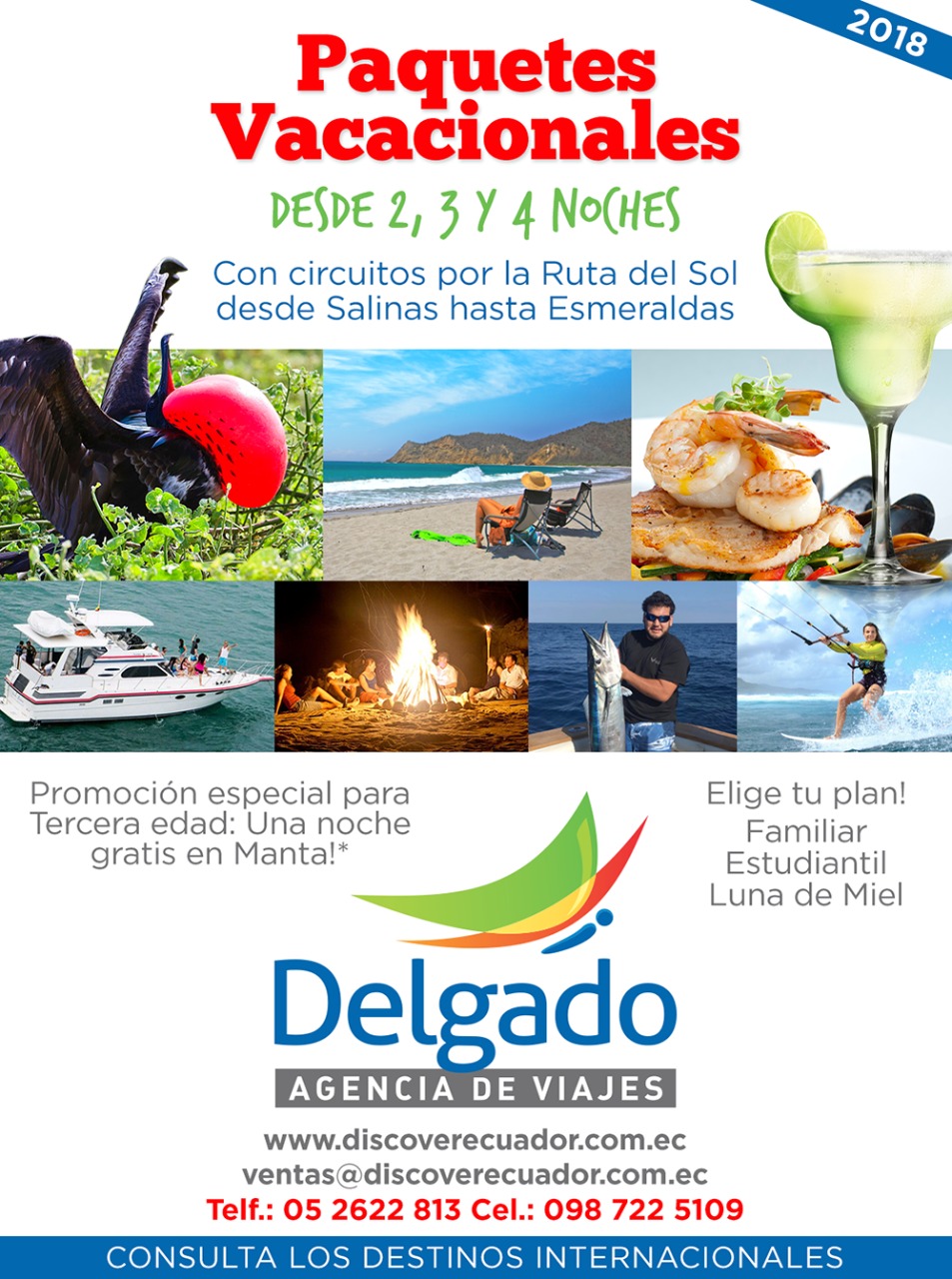 VIAJES Y TURISMO DELGADO was founded in 1979 in Manta city , and then starts its operations in tourism in 1992, proudly developing and implementing tours for visitors. The practice of cultural knowledge, social and ecological environment in Ecuador is impeccable, so we guarantee a reliDO able service in our programs.
                      We offer the following services in Ecuador
NUESTRA OFERTA EN ECUADOR 
Availability and online bookings
Reservations for national and international airfares, Cruise reservations, car rental, hotels, landtours in ecuador and other countries Special offers for groups (adults or students) for travel within Ecuador and the Galapagos Islands
Adventure Tourism • Ecotourism • Farm • Cultural Tourism • Honeymoon Plans • Events and meetings business • group activities or Conventions • Logistics & Transport • motivational activities to strengthen team work • memories • family reunions
You can combine the packages during your stay in Ecuador
GUAYAQUIL  – Perla del pacifico 3 days / 2 nights

 MACHALILLA VELOZ 3 days / 2 nights

MANTA CLASICO  3 days / 2 nc

RUTA DEL SOL DESDE SALINAS HASTA MANTA 4 DIAS 3 NOCHES

MOMPICHE  3 days / 2 nights

CANOA    PED RNALES    CAMPING  & Manglares  2  NOCHES / 3 days

VEHICULOS E ALQUILER

PLAN ESTUDIANTIL

 GALAPAGOS  4 NOCHES 

QUITO

CUENCA  
Our purpose is to provide quality service to them, individually or in groups. Ensuring a perfect organization a destinations place , in coordination with our agents With extensions from Quito, Guayaquil, Cuenca, operate throughout the country. Our operations center located in the town of Manta – First international seaport. Specializing in the National Park Machalilla: Humpback Whale, archaeological sites, marine birds, sport fishing, tourism, farm tourism, adventure tourism and others.
VIAJES & TURISMO DELGADO
OFERTAS EN VUELOS INTERNACIONALES
Hoteles, vehículo de alquiler,atracciones, cruceros, vuelos.
MANTA ECUADOR
011593 5 2 622 813 /

** Gerencia General**.
Jenny Rodriguez de Delgado 593 9  5  54 2 695
** Local Tour Operations
Jenny Delgado 0987225109

**Internacional Sales.